Hello L&DR listeners!
Again I Apologize for the delay making this posts possible been having lot of work recently and adding music and bands, I appreciate your understanding! Here's today Featured Bands!
"Amoral"
Source:
Amoral Official...
Amoral (FI)
- Amoral was formed in 2000 by Varon, Karlsson, and Ots; their first vocalist was Matti Pitkänen, who was quickly replaced by
Niko Kalliojärvi
. Former band members also include Ville Sorvali from
Moonsorrow
on bass. For some time before Sorvali joined Amoral, the band was without bass player, and Ots played bass on some of their demos. Amoral released two demos, Desolation and Other Flesh, with varying line-ups, and played some minor gigs before releasing their first full-length album. Amoral signed with
Rage of Achilles Records
and released their first album,
Wound Creations
, in 2004. After the bankruptcy of Rage of Achilles Amoral was picked up by Spikefarm, a division of
Spinefarm Records
, a major Finnish rock and heavy metal record label with whom they re-released Wound Creations and added a bonus track ("Metamorphosis" from an early demo) to mark the new release version. The album has received predominantly positive reviews from metal
magazines
and
webzines
around Finland and Europe, and Amoral played numerous gigs following the release and thenceforth[
citation needed
] Their rise from the underground metal scene was further marked by a month-long European tour with renowned metal bands
Finntroll
and
Naglfar
, and their inclusion in
Tuska Open Air Metal Festival
2005, Finland's most important heavy metal festival. Soon after the 2005 European tour, Amoral returned to the studio to record their second album,
Decrowning
. The album was released in Finland and several other countries in October 2005 and in Japan and the United States in March 2006. A music video has been shot for the song "Lacrimal Gland." The band embarked on a second European tour in the spring of 2006. The 37-date tour was headlined by
Dark Funeral
and
Naglfar
, and supported by Amoral,
Endstille
, and
Asmodeus
. Amoral has since played a showcase gig in Japan and a mini-tour in Italy. Amoral's third album was first announced on their website in early July 2006. The album was recorded in Studio Sound Supreme in
Hämeenlinna
in early 2007, and it was released in August 2007. A video was shot for the opening track and first and only single of the album, "
Leave Your Dead Behind
." Amoral's fourth studio album was announced in November 2008 when the band announced Ari Koivunen as their new front man. On January 21, their first single was put up the band's MySpace account. The first single is entitled
Year of the Suckerpunch
and the song is clearly distinctive from any of Amoral's previous material, and is built around Ari's higher pitched, clean, melodic voice, as opposed to former vocalist Niko Kalliojärvi's growling death metal vocals. The album,
Show Your Colors
, was released May 6, 2009. 12 January 2010 the band announced that Amoral and Silver Ots had parted ways. Valtteri Hirvonen, who already played at the European tour 2009 replacing Silver, was announced to be the "permanent stand-in guitarist" for the time being. In January 2011 Amoral announced it´s new guitarist
Masi Hukari
. 2010 Amoral worked with it´s 5th album and is recording it 2011. Studio blog is
online
. Amoral has completed work on its fifth studio album. 'Beneath was recorded at Sound Supreme studios in
Hämeenlinna
and was produced by Janne Saksa and guitarist Ben Varon. The CD will be released 26th October 2011. The Japan edition will be out 19th October. The first single "Same Difference" was released at the beginning of summer.The second single "Silhouette" was played first time on Radio Rock (FI) 3rd October and was followed by a
video
. Silhouette has both electric and acoustic versions, from which the acoustic one is the original.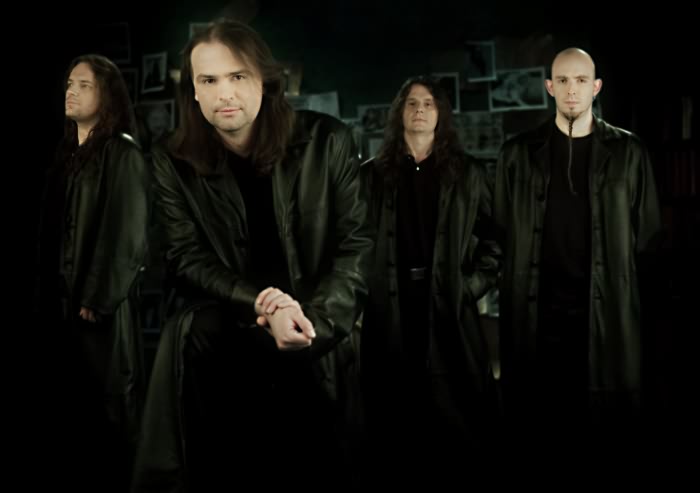 "Blind Guardian"
Source:
Blind Guardian Official...
Blind Guardian (DE)
- Blind Guardian was formed in 1984 in
Krefeld
,
Germany
, by
Hansi Kürsch
(vocals, bass) and
Andre Olbrich
(guitar) under the name Lucifer's Heritage. The band first released two
demos
in 1985 and 1986, despite undergoing chaotic lineup changes: Markus Dörk (guitar) and Thomen Stauch (drums) were replaced by Christof Theißen and Hans-Peter Frey, respectively. Finally, in 1987, Marcus Siepen joined and Thomen came back to form the lineup which would stay consistent for the next 18 years. After Lucifer's Heritage signed a contract with
No Remorse Records
, the band changed their name to Blind Guardian to avoid any speculations about
Satanism
(in a bio it was stated that they also wanted to distance themselves from the
black metal
movement, as their demos were placed in with black metal albums at local record shops). They released their debut album
Battalions of Fear
in 1988, which was essentially a
speed metal
album heavily influenced by
Helloween
. These two German bands had close ties, and Helloween founder
Kai Hansen
made a guest appearance on Blind Guardian's second LP,
Follow the Blind
(1989), where the band revealed some
thrash metal
influence. Their third LP,
Tales from the Twilight World
(1990), had a much more melodic and "epic" feeling, with usage of
choir
and
classical music
influence. Blind Guardian signed with
Virgin Records
in 1991, and released their fourth studio album
Somewhere Far Beyond
in 1992 and the live album
Tokyo Tales
in 1993.
Flemming Rasmussen
, former
Metallica
producer, began working with the band in 1994, producing their fifth studio album
Imaginations from the Other Side
, released in 1995, and
The Forgotten Tales
, an album that contained half covers and half original work, released in 1996. In 1998, Blind Guardian released their epic album
Nightfall in Middle-Earth
. "Complete with anthemic choruses, spoken word story lines, and plenty of bombastic power metal punctuating every dramatic turn", says
Allmusic's
Vincent Jeffries, "Nightfall in Middle-Earth is perhaps Blind Guardian's most triumphant". A
concept album
based on
J. R. R. Tolkien
's
The Silmarillion
, Blind Guardian's music demonstrated some
folk rock
influence, but also featured heavy use of
Queen
-style layered
backing vocals
. Since Nightfall,
bass guitar
has been played by sessional member
Oliver Holzwarth
, and Hansi has been able to devote all his attention to singing. Nightfall was also the last Blind Guardian album produced by Rasmussen.
A Night at the Opera
, named after
the Queen album
, was released four years later. On this album, the band's sound lacked almost all influence of their original speed metal. Power and progressive metal abound, with over the top orchestral backing and a consistent vocal and guitar layering throughout. Though not a true concept album, many of the lyrics dealt with the common themes of
religion
and relations between human and divine powers. It was followed by a live album in 2003 and a
DVD
,
Imaginations Through the Looking Glass
, in 2004, which was the last recorded Blind Guardian material to feature
Thomen Stauch
on drums. He left the band due to musical differences and was replaced by Frederik Ehmke. The first album with Ehmke was
A Twist in the Myth
, which came out in 2006. Blind Guardian participated in the
soundtrack
for the
In the Name of the King: a Dungeon Siege Tale
fantasy movie
(
Uwe Boll
), which came out in 2008. The band also recorded a theme song for
Sacred 2 Fallen Angel
RPG video game
, the prequel to
Sacred
. "
A Voice in the Dark
" was the next single from Blind Guardian that was released 25 June 2010. On July 30, 2010 the album followed, called
At the Edge of Time
. The band started "The Sacred Worlds and Songs Divine Tour 2010", the European dates will have the opening acts
Enforcer
and
Steelwing
. The 22 October in
Gothenburg
,
Sweden
only
Steelwing
was the opening act. The US dates will have Holy Grail and
Seven Kingdoms
and later they were announced that they would play at
Wacken Open Air
in 2011. On July 21, 2011,
Hansi Kürsch
announced on Blind Guardian's official website that they are working on an orchestral album. On September 1, 2011,
Oliver Holzwarth
joined
Rhapsody of Fire
as a full-time member, after 13 years as Blind Guardian's session bass player. The band has also announced that a
compilation album
, titled
Memories of a Time to Come
, is scheduled for release on
January 27
,
2012
, and it will contain re-recorded and remixed songs from the band's entire
discography
.

~Thanks For Listening and Support!
Keep'n Metal \m/