Hello L&D Listeners!
Enjoying the L&DR broadcast so far!? Well Don't forget there's new bands and music everyday Live! so stay tuned! Keeping this short, I'm still looking for some help so contact me if any interested! Here's the Featured bands!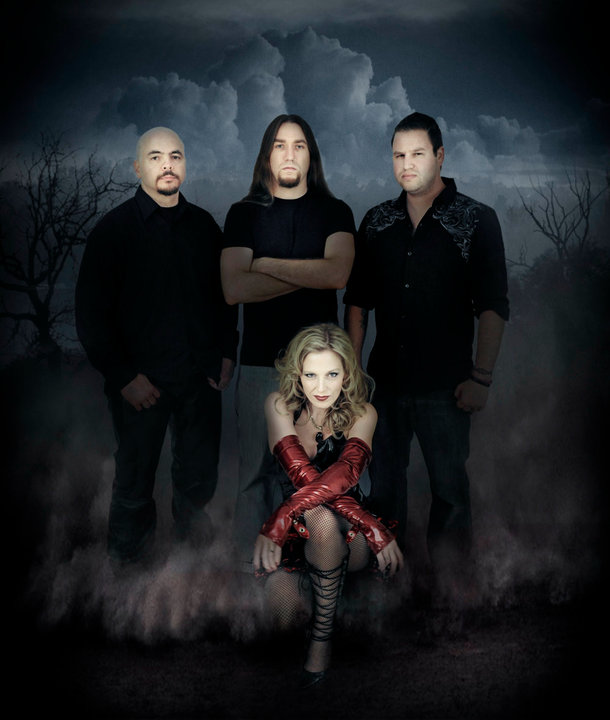 "Echoterra"
Source:
Echoterra Facebook...
Echoterra (US)
- ECHOTERRA was formed by Jonah W and Yan Leviathan in 2007. The duo spent most of 2007 and 2008 writing the songs for Echoterra's debut, The Law Of One. In 2008, Suvi Virtanen joined the band as the vocalist. The remainder of the line up was complete when Brian Hollenbeck joined on bass and vocals, and John Gensmer on drums. 2009 was spent mostly in the studio and the album was completed in the summer. The Law Of One was released in North America via Blinding Force Recordings in September of 2009. It is available world wide via Amazon, CDBaby, iTunes, and other popular sites. In late 2009, Melissa Ferlaak replaced Suvi on vocals and Adam Sagan replaced John on drums. A change was needed in order to allow ECHOTERRA the opportunities to perform live. With the new lineup in place, the band will perform regularly starting in early 2010. A brand new EP featuring Melissa on vocals is now available.
The band is in pre-production for the next full album with an anticipated release date of summer 2011.
Their newest album "Land Of The Midnight Sun" was released on October 17th so get your copy now! \m/
"Ecliptyka"
Source:
Ecliptyka Official...
Ecliptyka (BR)
-In December 1999, the cousins Guilherme Bollini and Rodrigo Mathias started a metal band influenced mainly by Heavy Metal traditional bands. At that time, the band played only cover songs. In July 2002, Helena Martins joined the band and the first songs started to be written in a new music style direction. From that time on, the band started to grow and play in several festivals in its hometown and in lots of other cities in São Paulo state, Brazil. Ecliptyka also shared the stage with many important Brazilian bands, like Dr. Sin, Tuatha de Dannan, Mindflow, among others. In December 2007, the band releases, independently, its first work, the demo-cd "The First Petal Falls", with its first 5 songs: "Wept Tears", "Time Makes Us Free", "Rest Warrior", "Feelings from Destiny" and "Unleash Me". This work was the result of several years of apprenticeship and it registers that phase the band went through, influenced mainly by Melodic Heavy Metal bands. In 2008, Ecliptyka tours throughout Europe and plays at festivals and venues as headliner in countries like Germany and Belgium. The band got a very positive response from the crowd, made a lot of friends and fans, divulged its name and received invitations to get back and play in Europe again. Back to Brazil, the band gave interviews to TV shows and radios, and it was considered one of the best Brazilian bands of 2008 by the columnist Costábile Salzano Jr. Ecliptyka also took part in several important Brazilian festivals, like "Rock Feminino" 2009. In March 2011, the band Ecliptyka consisted of Helena Martins (lead vocal), Guilherme Bollini (guitars and "scream vocals"), Hélio Valisc (guitars and backing vocals), Eric Zambonini (bass) and Tiago Catalá (drums) releases its first album: "A Tale of Decadence", in Brazil via Die Hard Records. It shows a very different musical direction from the one in the demo-cd, with heavier songs, guitar riffs and more dynamic vocals. This album has been recorded and mixed by Marcos Monegatto, Guilherme Bollini and Hélio Valisc, and had the voice production made by Ronnie Kneblewski and Helena Martins. The mastering was done by Brendan Duffey, who was responsible for the production of several well known Brazilian metal bands, like Angra, Almah, Torture Squad. The album also has had two special guests: Marcelo Carvalho taking part in "We Are the Same" and Danilo Herbert (Mindflow) in "Splendid Cradle" also in its Portuguese version "Berço Esplêndido". The album "A Tale of Decadence" has a much updated concept, with lyrics about destruction of the Planet by humans, cruelty against animals, politics and war. The goal with these lyrics is to spread words on these subjects, which are so urgent nowadays, and to make people pay more attention to them. It had a great response from the critics and it's getting terrific reviews from national and international websites and magazines. In order to divulge its first album, Ecliptyka is playing throughout Brazil and sharing the stage with many bands, like Delain (September 2010), Tarja Turunen (March 2011), The Agonist (June 2011) and Revamp (July 2011). Ecliptyka also has its songs being played in several Brazilian radios like Radio ShockBox, Metal Generation and Metal Militia, and international ones, like MetalHead Radio, Light & Darkness Radio (L&DR \m/) from USA. Still in the year of 2011, the band will release its first video clip with one of "A Tale of Decadence" songs. Stay tuned for more news about the band!
~Thanks for listening and support!
Keep'n Metal \m/