Hello L&D listeners!
Thrilled of being in the top 15 Live365 Metal Chart and is all thanks to you the next step is to reach the top 10! so keep suggesting L&DR to all your friends and future Metalheads! Well enough chitchat here's today featured bands!
"Mastodon"
Mastodon (US)

- Mastodon was formed in late 1999 when drummer Brann Dailor and guitarist Bill Kelliher moved to Atlanta from Victor, New York and met bassist/singer Troy Sanders and guitarist/singer Brent Hinds at a High on Fire show. They discovered they had a mutual appreciation of sludge metal bands Melvins and Neurosis and '70s hard-rockers Thin Lizzy, and shortly thereafter formed Mastodon. In an interview in 2009, Kelliher revealed that the first time Hinds attended a practice with the band, he "showed up so wasted he couldn't play". They recorded a demo in 2000, which featured the band's first lead singer, Eric Saner on vocals. Saner left the band for personal reasons after just a couple of months. After recording a four song demo and a 7-inch picture disc through Reptilian Records, Mastodon landed a record deal with Relapse Records in 2001. They released an EP, Lifesblood in 2001 and their first full-length album, Remission, was released in 2002, with the singles "March of the Fire Ants" and "Crusher/Destroyer" (which was also featured on Tony Hawk's Underground). On each of Mastodon's first three full-length albums the last track relates to the Elephant Man. Their second full-length album, Leviathan, was released in 2004. It is a concept album loosely based on Herman Melville's novel Moby Dick. The band received critical acclaim forLeviathan and it was named album of the year by Kerrang! and Terrorizer. "Blood and Thunder" was chosen as one of the most important recordings of the decade by National Public Radio in November 2009, and that the entire album epitomizes " a phenomenal decade for metal". Leviathan also ranked second in a list by Metal Hammer of the best albums of 2004. The band went on tour in support of the album, playing throughout North America and Europe in The Unholy Alliance tour along with Slayer and Slipknot. "Blood and Thunder" is featured in the video games Need for Speed: Most Wanted, Need for Speed: Hot Pursuit, Project Gotham Racing 3, and Saints Row. "Blood and Thunder" was added as a playable track on all instruments in "Guitar Hero: Metallica" and was featured in Japanese music games Drummania V2 and Guitarfreaks V2. It has also been released as downloadable content for Rock Band 3, with Pro Guitar support also available at extra cost. Leviathan was followed by the 2006 release of Call of the Mastodon, a remastered collection of the band's first nine songs, and a DVD of interviews and concert footage called The Workhorse Chronicles that includes material from the band's early days as a five-piece. These two releases were the band's last for Relapse Records, as they would later go on to sign with Warner Bros. Mastodon also recorded a cover version of Metallica's "Orion" for a 2006 Kerrang! tribute album honoring the 20-year anniversary of the release of Master of Puppets. Their third studio album was released on September 12, 2006, followed by a tour to support the album along with Tool in Europe and Slayer in Australia and New Zealand. The Mars Volta frontman Cedric Bixler-Zavala lent his vocals to the track "Siberian Divide." Queens of the Stone Age frontman Josh Homme contributed vocals for the song "Colony of Birchmen." The band performed the song "Colony of Birchmen" on NBC's Late Night with Conan O'Brien on November 1, their first appearance on network television, to a viewing audience of around 2.4 million people. This song was also featured in the video games, Saints Row 2 and Rock Band 2. The band's first single off Blood Mountain, "Capillarian Crest" was ranked number 27 in Rolling Stone Magazine's Top 100 Songs of 2006. The album itself was ranked 9th in the magazine's best albums of the year chart. The UK'sMetal Hammer voted it the best album of 2006 in its end of year critic's poll, The album was voted in at #5 by Kerrang! in their end of year list. Also number 6 on PopMatters' Best Albums of 2006 and number 1 on The Best Metal Albums of 2006. About.com rated it the top metal album of 2006. Blood Mountain was also named best album of 2006 in the 10th anniversary birthday edition (issue 119) of Bizarre. It also came in at #2 on Revolver magazine's list of the top albums of 2006. The band was named Artist Of The Month for March 2007 at Gametap.com. The band had been touring and playing numerous shows during this time. Mastodon joined Against Me!, and Cursive for a North American tour, with Planes Mistaken for Stars opening for one leg and These Arms Are Snakes the other. A performance in Milwaukee had to be canceled due to illness on the part of Brent Hinds. Mastodon would play the Hove Festival in Norway as well as on the Main Stage of the Download Festival and then the Pitchfork Music Festival. During this time the band opened for Metallica on the Sick of the Studio tour. The band also played at the 2007 Dubai Desert Rock, the 2008 Bonnaroo Music festivals, and the inaugural Mayhem Festival. Mastodon then toured withSlayer, Trivium, Lamb of God and several other metal bands in 2008 for The Unholy Alliance tour 2008. The band performed "Colony of Birchmen" at the 2007 MTV Video Music Awards live with Josh Homme. After the televised performance, member Brent Hinds was reported to have sustained a severe head injury. Blabbermouth.net initially reported that it was the result of a brutal assault but the police report later suggested that an inebriated Hinds had started a fight with System of a Down bassist Shavo Odadjian and vocalist William Hudson, also known as Reverend William Burke of Achozen. "Sleeping Giant" was made available as a downloadable song for Guitar Hero III: Legends of Rock, "Colony of Birchmen" was included on Harmonix's Rock Band 2, and "Divinations" was featured in Madden NFL 10. Mastodon contributed a cover version of Harry Nilsson's "One" to the video game Army of Two's advertisement campaign. The band members are fans of Aqua Teen Hunger Force, and in 2007, Mastodon performed the opening song of Aqua Teen Hunger Force Colon Movie Film for Theaters, "Cut You Up with a Linoleum Knife". Crack the Skye was released on March 24, 2009 as a normal version and a deluxe version (which includes all songs in instrumental versions as well as their normal versions) and entered the Billboard 200 at number 11 a week later. The album is produced by Brendan O'Brien and Scott Kelly of Neurosis returns as a guest musician on the title-track. In a MusicRadar interview, guitarist Bill Kelliher confirmed the album is about an "out of body experience," and looks at the concepts of astral travel, wormholes, Stephen Hawking's theories and the spiritual realm. The album follows a quadriplegic who learns astral projection. On his journey he flies too close to the sun, burning his umbilical cord which connects him to his body, and flies into oblivion. At the same time in Czarist Russia, Rasputin and his cult were channeling spirits and brought the quadriplegic to their time. He explains his situation and foretells the assassination of Rasputin. Inevitably Rasputin is assassinated and Rasputin guides him back to his body. The band had debuted three new tracks at the Bonnaroo Music Festival, but did not play any more live shows before the album's release, due to fears of internet distribution and wanting to play the songs to the right audience. Drummer Brann Dailor sings lead vocals for the verses of the song "Oblivion." Mastodon was a headliner at the Scion Rock Fest on February 28, 2009, performing a set containing three tracks from Crack the Skye, the first time these songs were played since being finalized and recorded. On May 15, 2009, Mastodon performed a shortened version of "Oblivion" on The Late Show With David Letterman. In order to support their new album, Mastodon toured with Metallica on the latter part of the 2009 European leg of their World Magnetic Tour. In Fall of 2009, they embarked with Dethklok on the "Adult Swim Presents" tour along with Converge and High on Fire. On October 17, 2009, they recorded a DVD documenting the tour at the Aragon Ballroom in Chicago. Mastodon played the alternative music festival "Big Day Out" in January and February 2010. Mastodon toured across Australia and New Zealand playing alongside notable bands such as; Muse, Lily Allen, Rise Against, Karnivool, Peaches, Grinspoon, The Mars Volta, Eskimo Joe, Powderfinger and several other Australian and international bands. On October 29, 2009 they performed "Divinations" on Late Night with Jimmy Fallon. On November 4 Mastodon released their second EP, titled Oblivion EP. Teaming up with bands Deftones and Alice in Chains, Mastodon went on tour in September 2010 in the United States and Canada. The tour is called Blackdiamondskye, a portmanteau of the three bands' latest albums (Black Gives Way to Blue, Diamond Eyes, and Crack the Skye). There is currently a petition on Australian website Dripping Acid Airwaves to bring the three bands and the Blackdiamondskye tour to Australia and New Zealand. The site also features the 'Put On Your Goggles' mash-up promo video for the tour which has received extensive play on YouTube. Film director Jimmy Hayward contacted the band during their 2009 tour of Europe and expressed how much listening to Blood Mountain had helped his creative process while finishing a screenplay, and he offered Mastodon a chance to score the film he had been working on - Jonah Hex. In an interview with Paste magazine, bassist Troy Sanders said that Hayward "called us out of the blue as a fan. It was the most beautiful, authentic way to collaborate." Mastodon used scenes from the film as inspiration during the writing and recording process, and the instrumental soundtrack, Jonah Hex: Revenge Gets Ugly EP, was released on June 29, 2010 through Reprise Records. In 2010, the band was confirmed as being part of the soundtrack for Namco Bandai Games' 2010 remake of Splatterhouse. The game's protagonist can also be seen wearing a Mastodon T-shirt in certain flashback cutscenes. The band has stated that they are working on a new album, via Facebook in January. Mastodon released a live DVD/CD, Live at the Aragon, on March 15, 2011 through Reprise. The recording features the entire performance of Crack the Skye, along with "Circle of Cysquatch," "Aqua Dementia," "Where Strides the Behemoth," "Mother Puncher," and a cover of "The Bit" by the Melvins. The band is lined up to perform at the Sonisphere Festival in Knebworth, France, Sweden, Turkey, Finland, and Poland, as well as in Germany's Rock Am Ring/Rock Im Park Festival this summer. In April 2011 Mastodon announced two of the titles from their forthcoming album: "Blasteroids," and "All the Heavy Lifting". On June 16 the bands website posted the names of three more songs; "The Octopus Has No Friends", "Stargasm", and "Curl of the Burl". The album, being recorded at Doppler Studios in Atlanta with producer Mike Elizondo will be coming later this year. In an interview with MTV Germany, it was revealed that the new album will be called The Hunter. Speaking to AOL's Noisecreep, drummer Brann Dailor described the new material as not so much proggy as riff-oriented and "a little more stripped down," akin to that of Leviathan (2004) and "like a really super-heavy Led Zeppelin or something." Asked if Brent Hinds is again responsible for most of the initial songwriting, Dailor replied, "I think it's a little more collaborative, with everyone chipping in." On June 28, 2011, Mastodon released an unreleased track from Crack the Skye called "Deathbound". It was released through Adultswim.com and had a music video made for it. In July, the band's Youtube account debuted a song off of their new album entitled "Black Tongue". On August third, the band released the full track listing from the album, they also announced that "Curl Of The Burl" will make its online debut on August 16th.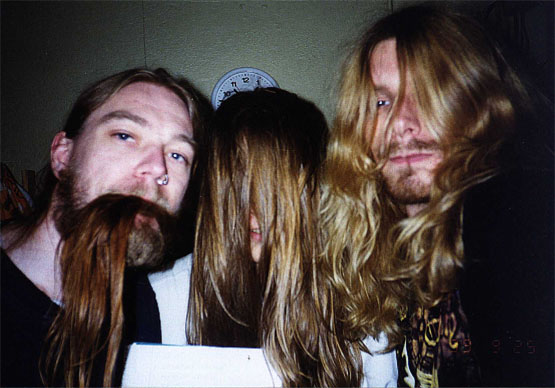 "Grave Flowers"
Grave Flowers (SE)

- Grave Flowers was formed in December '93 by Matte Andersson as a one man project. The first demo didn't see the light of day until June '95. The demo contained 3 tracks and had the simple name "Demo-95". In March '97 it was time to record the second demo and it was then Jason came into the picture as a soundengineer. Three tracks were recorded this time also in a temporary studio (as a matter of fact it's recorded on a 8 track porta studio) The second demo got the name "Garmonbozia ". After "Garmonbozia" was recorded Matte took a little rest from Grave Flowers for a while because he felt it needed some improvement. He wasn't satisfied with the musical performance which was mostly played by him on those demo recordings. He knew that Jason was a very good guitarist so I asked him if he could play the guitar parts and help him out with various things. He accepted his offer. In Sept '99 Matte had enough songs, so he asked Jason if he could help him out and he had recently bought recording equipment together with his other bandmates. It was a great moment for him to get to know the equipment. They spent 3 weeks in the studio, practically night and day. Seven songs were recorded and Grave Flowers debut album "Solace Me" was born. The German label Serenades Records released "Solace Me" in July 2001 and it was also released as a limited picture LP by Painkiller Records, Belgium. The contract with Serenades Records was only for one album and it was time to move on. Now Matte was more pleased with Grave Flowers since Jason played guitar, bass and engineered the whole album, but one thing was still missing, namely real drums. So when it was time to record once again he asked Jason to play the drums, instead of the drum machine they used on "Solace Me". Matte decided to take one burden from him and play the bass himself. In May 2003 had they recorded 3 songs which they used as a promo to get a record deal. After they had finished the recording of the promo Matte realized that he couldn't do without Jason. Since he has been involved in Grave Flowers since the second demo Matte asked him to become a permanent member and as always with Jason he accepted. In march-04 Grave Flowers signed a deal with the Finnish label Firebox. Their second album "Incarcerated sorrows" was recorded in August-04 in a studio called "Speedball" located in their hometown Karlstad. They spent two weeks in the studio, but the drums were already recorded in another studio (Hairy Bones) before they started. On this recording they hired a drummer named Jacob Bäckman, a very tight and skilled drummer. The album was released by Firebox in the end of march-05. Grave Flowers was supossed to release one more album through Firebox, but that will not happen due to some complication. Nowadays Grave Flowers is a one man project and right now it dwells in the darkness but you never know when it will hit the light.
~Thanks For Listening and your support!
Keep'n Metal \m/