Hello L&D Listeners!
I apologize for the waiting! Thank you so much for the support, You guys Rock! \m/ Now Here's today Featured Bands!!
"Periphery"
Periphery (USA)

- Hailing from Washington DC, Periphery is one of the freshest progressive metal acts on the scene today. With their signature blend of polymetric grooves and soaring melodies, the band continues to push the envelope of modern metal music. The Band released their first full length album 'Periphery' on April 20th in 2010. It debuted at #128 on the Billboard Top 200, as well as #2 on the Billboard Heatseekers chart. Periphery formed in 2005 and currently consists of Misha 'Bulb' Mansoor, Jake Bowen, and Alex Bois on guitars, Thomas Murphy on bass, Matt Halpern on drums, and Spencer Sotelo on vocals. Since its inception, the band has been relentless its effort to have their music be heard. Allowing free access to almost their entire catalog, including over one hundred and thirty download-able songs, this self produced band is seeking to redefine the way music is experienced. Periphery has toured extensively since 2008, supporting artists including DevilDriver, Emmure, Veil of Maya, Animals as Leaders, God Forbid, The Dillinger Escape Plan, A Life Once Lost, This Time Its War, Tony Danza Tap Dance Extravaganza, Fear Factory, Darkest Hour and Fair To Midland. The band's first European headline tour in early 2011 titled 'The League of Extraordinary Djentlemen' with TesseracT, Monuments and The Safety Fire was a huge success. And there is more to come! Their new 'Icarus EP' will be released April 19th.
"Minora"
Minora (SWE)

- The Gothenburg, Sweden based band Minora adds unique aspects to their metal sound with a mix of alternative post-rock and progressive elements. The result has been turning the ears of many in the metal/rock scene after countless shows and re-invention. Minora got together in the current lineup back in 2008 and during the same year started to write material for their debut album, "Imago", to be released January of 2011. The recording was done at Svenska Grammofonstudion (Dark Tranquillity, The Haunted) in Gothenburg and mixed/mastered by David Castillo (Katatonia, Bloodbath, Opeth) at Ghost Ward in Stockholm during 2010. The album is full of dynamic heavy guitar-driven songs and even includes a cover of Björk's "Jóga". The band also employed the design skills of Shelby Cinca who has done work for Dillinger Escape Plan "Ire Works" and Darkest Hour "Hidden Hands of the Sadist Nation" and "Mark of the Judas" to visually represent the album.Minora's debut establishes the band's world sonically and visually of one full of dynamism and atmospheric journey. Minora has performed as opening act for the metal band Evergrey in 2009 and have done numerous shows which have given them the recognition for being a band that communicates great emotion via their heavy driven sound. After the release of "Imago" the band plans on supporting the album throughout the year as well as continuing to hone their sound. This is the beginning… the birth.
"One Without"
One Without (SWE)

- Since the release of "THOUGHTS OF A SECLUDED MIND", the debut album byONE WITHOUT, which was released by Lifeforce Records in 2009, the band has been touring with Evergrey, Katatonia and The Genitorturers, shared stages with bands like Soulfly, Epica, Doro, Krypteria, Paradise Lost, Carpark North, and All Ends, performed at festivals, performed live in Swedish national radio, received tons of great reviews and has been interviewed and featured in numerous magazines and radio shows all over the world. THOUGHTS OF A SECLUDED MIND" was released in North-America, Europe and Japan with great response from media and fans all over the world, bringing together fans that acknowledged a new sound in the metal scene. With the second album by ONE WITHOUT, titled "SWEET RELIEF", the band brings back their trademark sound, and takes it to a new level. "SWEET RELIEF" was mixed by Mattias Wänerstam (Avatar, Within Y, Suicide Nation) and mastered by Dragan Tanaskovic at Bohussound (Mustasch, Europe, In Flames, Evergrey).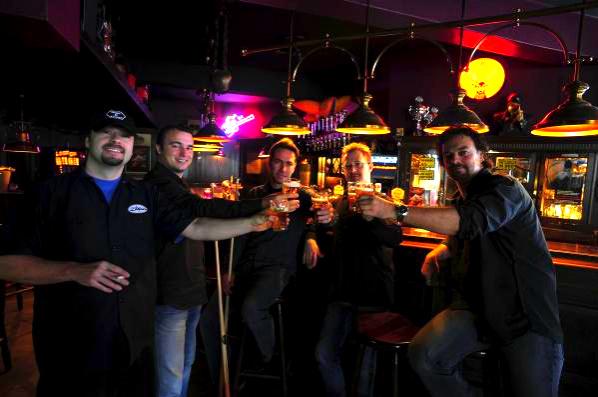 "TBSP"
The Barstool Philosophers (NET)

- Dutch band THE BARSTOOL PHILOSOPHERS was formed by long time friends Ivo Poelman (guitar) and Martin Kuipers (drums) back in 1997, albeit nameless in the initial phase. Mark Portier (bass) and René Kroon (keyboards) hooked up with them shortly after, and in 2002 the band was completed when Leon Brouwer (vocals) joined in 2002. Portier left the band in 2004 in a case of opportunity knocks though, but his replacement Bas Hoebink (bass) turned out to be a good one, and with that minor line-up alteration dealt with the band started developing their style in earnest. Five years down the line and The Barstoool Philosophers make their debut as recording artists with the CD Sparrows. The album gets plenty of good reviews, and they are amongst the lucky few who got to experience sales good enough to warrant a second pressing, which isn't too common an experience in this day and age. As of September 2010 The Barstool Philosophers are planning their follow-up album, with tentatively set for release sometime in 2011.
"Event"
Event (USA)

- EVENT is a cutting edge Prog/hard rock band from New England. The band was formed out of an ensemble at Berklee College of Music in 1996. The band recorded their first album "Electric Skies" in 1997 and licensed the debut in 1998 in Japan, Europe and South America. The band has a wide variety of influences that create a unique, sophisticated, driving sound. Over Christmas of 1999 the band began recording their sophomore release "Human Condition." EVENT has teamed up with Jim Pitulski and Inside Out Music America for the album's nationwide release in early 2001. EVENT combines its hard guitar driven riffs with elements of techno loops and some intricate passages to satisfy the tastes of any Prog listener.
Spheric Universe Experience (FRA)

-
The early beginning of Spheric Universe Experience dates back to 1999, when guitarist Vince Benaim decided to create a progressive metal band together with his friends Sam (on drums) and John Drai (on bass). The band did some local gigs in and around the southern parts of France, going by the name of Gates of Delirium.They knew that they limited their own repertoire by not incorportating vocals and keyboards, so by 2001 keyboardist Fred Colombo entered the band together with vocalist Alex. Now going by the band name of Amnesya, the guys did lots of liveshows and one demo CD. In August 2002, the band split because of musical disagreements leaving Vince, John and Fred to continue under the name of Spheric Universe Experience. During the next 8 months their passion for composing led them to write a complete album, which they recorded at home as a demo in April 2003 with session vocalist Franck Garcia, who came in just a few days before the recordings began. The vocals were recorded in a professional studio, and although Franck didn't have much time with the band prior to recording it, the result is very convincing, which is why he now have joined the band fulltime. The 2003 demo, "The Burning Box", was sent to Intromental Management in Denmark, who immediately fell in love with the bands sound, and decided to offer them a management-deal. With drummer Volodia Brice (Kitto, Frdric Lpe, Stphan Forte...), the band began recording the final album, "Mental Torments", in August 2003. The cover artwork has already been done by famous Swedish artist Mattias Norn (www.progart.com). Early 2004, Volodia Brice decided to give up with SUE for personal reasons. The band immediately started to search for a drummer. During spring 2004, Guillaume Morero became the new drummer of SUE. The band has been playing for 8 months with this line up. However, at the end of year 2004, there is a new change on drums: Guillaume Morero is substituted by Nicolas "Ranko" Muller, who is already recognized as an excellent drummer with his band Artefact. His huge technical skills have actually caught the attention of the band. SUE is now ready to present his first album live ("Mental Torments" in USA - the album released on February 21st 2006 with "Nightmare records". This version include one exclusive bonus track for the American audience only)!. The band had the great opportunity to play as opening band for world-famous rock band Scorpions in September 2005. S.U.E. also opened for the former Scorpions guitar-heroe Uli Jon Roth in Paris. Now the french proggers are working on their second album that they'll start recording in May/June. This new album will be released late 2006. The band recently welcomed a new drummer -- Christophe Briand, drum teacher at the National Music Academy of Cannes, France -- due to Ranko Muller leaving the band after 4 amazing years of drumming. In September 2008, S.U.E. performed at ProgPower USA festival in Atlanta, GA, USA. Right afterwards, the band entered the studio to record their thrid album -Unreal- was released in spring 2009...