Today I Bring you more freshly encoded music!!!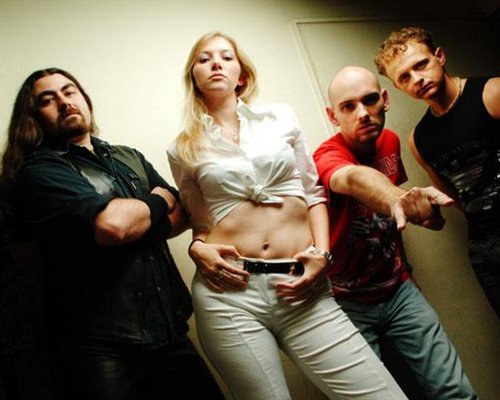 "Skylark"
Skylark (ITA)

-

Skylark was founded by Eddy Antonini in 1994 with the intent of exploring several musical styles in one project.

After adding four members, the group recorded the 1995 album

The Horizon and the Storm

, the first of a series of yearly releases. From 1996 they released on the Italian label Underground Symphony. The 1997 released

Dragon's Secrets

received several positive reviews in metal magazines.

Antonini also recorded a solo effort,

When Water Became Ice

, in 1998 in between Skylark releases.

In 1999, they released the first of a two album project, The Divine Gates; the second half was released the following year. The group had several of their albums released in Japan, where they found critical success, particularly in the music magazine Burrn!. They toured Europe in 2000 playing in Germany and headlined at the Rock Machina 2000 festival in Spain. After 2001's The Princess Day, the group embarked on a world tour, including dates in Japan. The group then went on a short hiatus, returning in 2004 with Wings, featuring Kiara the new vocalist. After three albums on Scarlet Records, they contracted with Underground Symphony again in 2006. In 2007, they continued the Divine Gates project with a third release "The last gate". In 2007 "The last gate" hit the HMV Japanese Rock and Pop charts at #3 only behind Bon Jovi and Dream Theater staying in the Top 50 for several weeks. In January 2008, Skylark played the longest Pan China tour of History for a western band. They played seven headliner shows touching even Haerbin capital of Chinese Siberia, plus one supporting gig withNightwish and Dream Theater in Beijing and one supporting gig in Shanghai with Nightwish. In May 2008 Skylark played for the first time in the United States and recorded a live DVD of their performance in Phoenix Arizona. This DVD "Divine gates part IV The Live Gate" hit position #4 in the HMV Japanese charts only behind Iron Maiden, Rolling Stones and Britney Spears. Skylark as of 2009 played 4 tours in Japan. The band is now working on a new record which includes some old tracks re-registred plus some new songs. David De Feis will appear on this record dueting with Kiara in the song "Symbol of freedom".
"HITC"
Hell In The Club (ITA)

-
With members of two of the biggest Italian metal bands around: SECRET SPHERE and ELVENKING,
Damna (Elvenking) on vocals, Andrea Buratto (Secret Sphere) on bass, Federico Pennazzato (Secret Sphere) on drums and Andrea Piccardi on the guitar, HELL IN THE CLUB will distress you, they'll make you dance, sing and bang your heads with their songs and their
amazing live shows...rock'n'roll is the keyword!!
Dotma (FIN)

-
Well, Dotma is a heavy metal band from Hyvinkää, Finland. Their music is best described as melodic metal with pompous melodies, spiced with a dramatic, and the same time gentle female voice.
"Dotma"
There are two guys with long hair and pimples on their faces – the guitarist and the keyboardist. They are making jokes about power metal bands and their lyrics full of dragons, warriors, swords etc. Then these "Beavis & Butt-Head" come up to the idea of forming their own band. That's how "Dragons Of The Middle Age" (Dotma these days) saw the daylight and the first song was called "Hunting the Dragon". Next song "Wizards of the Dragon Tower" was actually played in most of the gigs couple of years later. So two years went by, the songs developed and the "dragon-theme" started to fade away. Finally in the autumn of 2007 Dotma stepped into the studio for the first time. The first promo-CD including three songs gained positive reactions but to us it was just an overture. As far as today our music has been like a journey from the Middle Ages to our own fantasy world. The contrast between powerful melodies and limpid female vocals makes the music fresh yet mystic. Now, Dotma has just finished with the recordings of a promo-cd of their upcoming debut album. The promotional cd titled "Dances with the shadows" contains three new songs, which shows the musical style where Dotma has grown within these past few years. The line-up has changed a bit from the early days, but now for the first time, band is ready to go full steam ahead towards new adventures! Now, we would like to welcome you to the journey that leads you to a world of deep dreams and dancing shadows!
"EoE"
Echoes Of Eternity (USA)

-

Is a Progresive metal band from Los Angeles, California, founded in 2005.

Kirk Carrison and Brandon Patton created the band in 2005. Carrison met vocalist Francine Boucher in Florida. The two began dating and moved to Los Angeles together. After a few failed music projects, Carrison urged longtime friend and guitarist Patton to move to Los Angeles and form a band. The two enlisted Canadian-born Francine on vocals, who had previously worked in the techno/dance music genre, programming and recording her own work. The band then added bassist Duane Cowan.

The group recorded a three song demo, which was eventually passed to Nuclear Blast records, who signed the band in 2006.

On February 20th, 2007, ECHOES OF ETERNITY released their debut album "The Forgotten Goddess". the album received mixed reviews from the press, though most of them were favorable. On

Sep 22, 2009 They released their latest album "

As Shadows Burn".

ECHOES OF ETERNITY plays a gothic-oriented progressive-metal, with emphasis on thrash-style riffs along with beautiful melodies and the great vocal work of Boucher.
Ab Aeterno (ARG)

-
Ab

Aeterno

born in

2007

in

Buenos

Aires

, Argentina

,

as

a

studio project

,

with the voice

of

Carina

Alvarez

and

Ivan

Iñiguez

on

guitar

and compositions

.

In

2008,

participating in

"

Sincity

The

Dreams

Go On

"

, the

first

tribute

to

Dream

Theater

released in

Argentina

by

BlackMedusa

Records

,

performing "

These

Walls

. "

On

September 6

the

same

year they

made their

official live

debut

at the

Pepsi

Music

as

guest band

for

Tarja

Turunen

.

In 2009

the

band

released

an

EP

presentation

and

preview of what

will be

their first

album

"

Illusion

Red"

with

3

blastingl song

s

.

Currently

the band

is

producing his

record

which

would be published

during

2010

.

Also

continue

their

live performances.

Ab

Aeterno

is

Carina

Alvarez

, (vocal)

Ivan

Iñiguez

(

guitar)

Fernando

De

Cristofaro

(

drums) and
Damian

Bordese (bass)

.
"ab Aeterno"