Hello L&D Listeners!
As usual today I present you with more new music today features lots of Prog! Heres some Info about this Blasting bands! \m/
"Nail"
Nail (CAN)

- Nail is a Canadian progressive heavy rock/metal band. After spending several years performing with Canadian multi-platinum recording artists Helix, Nail was formed in 2007 by Rainer and Cindy Wiechmann after their departure from that group. Nail presents a sound that is a considerable departure from the '80s "Hair Metal" rock sounds one would associate with Helix, having roots and influences more likely associated with groups like Rush, Black Sabbath, and Tool. Stylistically Nail is difficult to categorize as there are few if any groups that combine these elements with female vocals, effectively putting the group into a category of their own. 2007 saw the release of the first self-titled album which was met with many positive reviews and made its way onto several "best of" lists from international reviewers. Catchy musical hooks and lyrics combined with skilled musicianship and arrangements that are "progressive" in nature but still easily accessible set the standard for the "Nail" sound. The live concert performances also include co-ordinated video presentations which combine into a sensational entertainment experience. May 2010 now sees the release of the band's sophomore album, "power and greed", which continues in this vein, and so far has seen excellent reviews. Produced and engineered by producer/Nail guitarist, Rainer Wiechmann, whose many past studio credits include associations with artists, such as Kittie, Helix, Blood of Christ, Thine eyes Bleed, and dozens of independent releases over the past 20 years.
"Zero Gravity"
Zero Gravity (BEL)

-

Zero Gravity's sound can best be described as melodic, emotional and groove-spiced with a lot of heavy passages. Their songs will take you on a trip through passion and pure energy while floating on melody

ZeroGravity gave it's first sign of life in 2003, when after some months of intense rehearsing the first incarnation of the band entered "Dé Studio" in April 2003 to record four songs resulting in the "Synchronicity" demo.

At that time ZG's line-up consisted of a bass player (Dirk), a keyboard/guitar player (Marc. Yes, he did do both. It was a sight ever so lovely to behold) and a drummer (Pieter). Upon entering the studio, the guys suddenly realised they were missing a vocalist, and so close friends Dorien Heyligen and Santiago Janssens were called upon to lay down some guest vocal tracks. The demo got an overall positive response and great reviews.

The Line-up ride proved to be even more bumpy in the last half of 2003, but this time with a happy ending. As you all know, it is physically and chemically impossible to keep two keyboardplayers together in one confined area for more than a few rehearsals. Therefor, the band decided to exchange the keyboard player they picked up right around the recordings (Johan Vingerhoed - found by the side of the road) for another guitar player (Alex) in the summer of 2003. Marc still combined guitars and keyboards and new songs were written.

In November 2003, Sven joined the band on vocals. Finally the band could check that little box next to 'vocalist'. As it turned out, the new guy behind the mic showed to be quite the skilful guitar player as well, so Sven picked up guitar duties too.

In April and May 2004 the first live concerts were played, but the band was eager to record some new songs with the new line up. They concentrated on writing and re-arranging 4 to 5 tunes.

Between 2005 en 2007, the band hit the stage again and started to develop a steady live reputation with a gig at the Progpower Festival in Baarlo (NL, 2006 - as first unsigned Belgian band ever!) being a definite highlight.

By the end of 2008, ZeroGravity started the recording of their debut full cd, still firmly believing they would deliver it by the spring of 2009. As the band went through quite some tests in all possible ways, several illusions of deadlines were shattered.

Now reaching the winter of 2010 "Misplaced Moments" is upon you, and you're going to like it.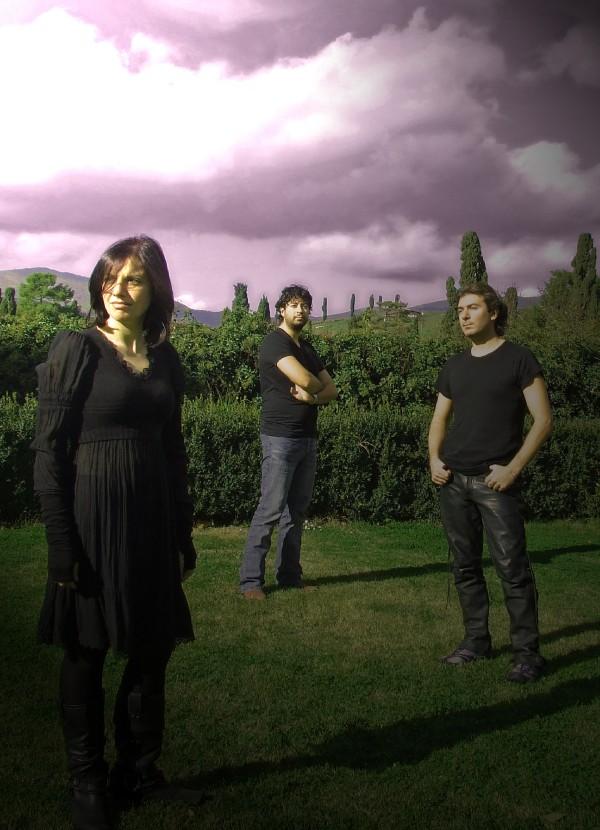 "Violet Sun"
Violet Sun (ITA)

-
After his break with
Thy Majestie
, vocalist and multi-instrumentalist Dario Grillo kept himself busy with his new female-fronted band Violet Sun.
Loneliness In Supremacy
, the band's elegant debut, makes you dig through layers and layers of symphonic edges that draw up the blueprint, enough progressive hooks to prevent the album from being easy digestible, and even a few gothic abstracts which give color to the darker sides of the album.
Clearly Grillo had still
many
more bright ideas up his sleeve, as
Loneliness In Supremacy
abounds in creativity, variety and versatility. As a not so unfortunate side-effect, the album goes through several ups and downs; some parts will take you by storm while the more progressive parts are more resistant and engulfed in a thick blanket of fog to cut you off.
Further on,
Loneliness In Supremacy
excels in the most important aspect of flirting: being a tease. Various healing melodies are designed to appeal to the audience's emotions, but the next moment the more complex arrangements work repelling and push the listener around like a demented pinball. And also the seducing interplay between the wide and dynamic range of clean male and female vocals works enchanting.
Loneliness In Supremacy
is a still-evolving journey. At one point I thought I had reached the heart of the album, where seemingly unrelated emotions are woven together. But then that thrill was gone as quickly as it had come, entangled in debris, and I knew I had to start all over again. A real tease indeed.
"Lost In Thought"
Lost In Thought (UK)

- A new generation of Progressive Metal has been born in the UK by the up and coming Lost In Thought. Lost In Thought formed in late 2007 when David Grey and Simon Pike embarked on a quest to find other musicians to compose and perform progressive tinged music with. Linking with Greg Baker and Chris Billingham, they soon became a force to be reckoned with in their home of UK. After completing their line-up with vocalist Nate Loosemore, the band recorded a demo EP early 2010. The band has a wide variety of musical influences which is incorporated in their music. Combining the elements of progressive rock/metal, melodic metal-core and symphonic metal to create their unique and epic sound. From all these musical elements, Lost In Thought's music consists of both heavy and distinct riffs, large orchestrations, melodic guitar and keyboard unisons, epic vocal melodies, variable time signatures and dynamic ballad sections.
"SOS"
Silver Ocean Storm (AU)

-
From the ashes of Minus Life a new beast known as Silver Ocean Storm has formed. S.O.S. is an entirely new entity in its own right
presenting
their debut album (a must have/hear \m/) "Architect of the Dying Sun". Silver Ocean Storm have already supported acts such as Hellyeah, Helm, Dreamkillers and Daysend along with being included in the Dead of Winter Festival 09 & 10 Band members have collectively played on Festivals such as Big Day Out 03/07 & Metal For the Brain 01/06/07 and supported such acts as SLAYER, DEVIN TOWNSEND & STRAPPING YOUNG LAD, MASTODON, ARCH ENEMY, DARK TRANQUILITY, ENTOMBED, KITTIE, WEDNESDAY 13, NEVERMORE, DEATH ANGEL & ARMOURED SAINT but to name a few. In other words they Kicks ass!!
Enjoy!
~Keep'n Metal! \m/