Hello L&D Listeners!
We all Love new stuff right? well today I bring you new bands/musik recently added to L&D (today I added the re-release/re-master of Tarot "The Spell Of Iron" released April 6 2011) Let's check it out~ \m/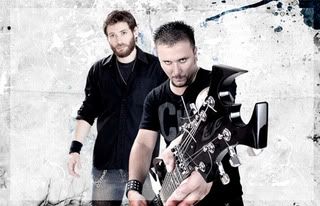 "Auvernia"
Auvernia (ARG)

-

Auvernia is a metal band hailing from Argentina. Born in 1999 as a just-for-fun project, it took almost 7 years and several line-up changes to build the foundations that would result in their first production in 2006, a four track EP entitled "You Will Come". Although it was a low budget demo, it left no doubt that this wasn't a just-for-fun project anymore; it managed to become something unique in the underground metal scene of Buenos Aires.

Two years later, in 2008, the band released its first full length album entitled "Towards Eternity". Good reviews were to come, and not just from homeland. The album crossed the barriers of territory to find listeners all over the world, surpassing all possible expectations.

But time doesn't stop and neither does Auvernia. After years of its creative voice and only one album produced, the band was eager to continue composing. Inevitably a new album was in the making.

The band kept combining styles and influences including power metal, black metal, heavy, progressive, latin and classical music in the pursuit of an identity of their own, a challenging feat nowadays. That makes it hard to fit Auvernia into one category. Although the first album was Power Metal driven, the band continued to grow creatively, leading to their second release in 2010, a 12 piece LP entitled "Afraid of Me". In just one year this new album was composed and recorded, a process that had previously taken nine years.

Unfortunately it ain't all about music, due to the always difficult issue of maintaining creative harmony, the band currently consists of the founding members; Fernando H. Varela (Vocals, Guitars) and Juan P. Verni (Drums). Which presents no trouble for Auvernia to carry on since they have been the core of the band from the beginning.
"The Clay Withrow Band"
Clay Withrow (USA)

-
Clay Withrow's music explores the dark and damp spaces of the human psyche. Within the confines of his independent studio, Clay meticulously performs and records each and every one of his original tracks. Fans of his music enjoy his deeply emotional vocal performance and propensity to write epic movements. While each track differs dramatically from the last- sometimes spanning diverse musical genres- they all become bound by a delicate thread that is Clay's unique and varying style.
His forthcoming CD, Dissonance Rising, is the story about two brothers who find emotional salvation through a series of terrible circumstances. Born into a life of poverty in early 1920's immigrant American, the brothers lose their mother and father to famine and disease. Abandoned and left with only each other, they do what they must to survive but fate turns its cruel knife leaving the two estranged. Dissonance Rising is a unique window into the lives of these two grown men and how, through happiness, loss and humility, they find each other at the end of life's road. Clay's original vision of the story came to him when he read Upton Sinclair's The Jungle in High School. After learning more about the unsanitary conditions of immigrant workers while attending the University of Oklahoma, he penned a story set to sorrowful music. The result is the collaboration between traditional storytelling and reoccurring musical themes that coalesce to form a tapestry of striking narrative. As a young child Clay first experienced music by listening to the 70s and 80s pop tunes his mother played in the car. As he grew, his tastes expanded to include a wide array of film scores that intoned dark emotive imagery, such as Batman, Schindler's List and Terminator 2. His high school band, Dysphoria, played local venues, incubating his talent and confidence. After entering college Clay was introduced to several unique musical styles from bands such as Ayreon, Shadow Gallery and Pain of Salvation. The progressive rock genre began to afford Clay the flexibility to explore music like never before. Already familiar with advanced guitar technique he taught himself to play the bass, drums and piano so that he could accurately pen lavish compositions. Over the course of two days in December of 2002 Clay quickly recorded an eight-song album on his analog 4-track mixer. Consisting of completely improvised selections, the story, which took place on Christmas Eve (coincidentally the time he recorded the demo) confronted issues of abuse, abandonment and suicide. While the tracks were very rough around the edges, it was a striking indication of his bold new direction. Just one year later Clay emerged from his basement studio with a brand new demo that aptly summarized his previous recording efforts. The demo- a seven-minute epic titled "The Grinding"- quickly became a favorite among fans of independent progressive music for its brutal intensity and captivating narrative.

Clay's been writing music since- self-performing, mixing and producing CDs in his basement studio. His first full-length album, Dissonance Rising, which incorporates a blend of intricate time signatures layered by a non-linear narrative, will see release in late 2006. Available at www.claywithrow.com, his growing portfolio reflects his earlier elemental sounds, including original movie scores for independent films, as well as his own steadily evolving flavor of melodic progressive metal.
"OfWAR"
Of Wrath And Ruin (USA)

- Of Wrath And Ruin traces its roots back to 2004, and after several incarnations founders Pat Brose and Joe Brannigan have finally found the right people to meet the needs of the bands unique progressive metal style. During one stint as 'The Heliand', Pat and Joe met vocalist Laura Tyburski. A deep musical chemistry has evolved between the three as they have worked together over the last several years. The combination of Pat's death metal vocal style and Laura's clean vocals is one of the characteristics that make OfWAR special. They feel bands such as Dream Theater, Opeth, Nevermore, Dark Tranquility, Children of Bodom and Nightwish have heavily influenced their music. Pat Brose has been the driving force behind the music, writing and recording almost all of the music single-handedly. In early 2009 producer Steve Childs offered to work with Pat on a full-length album. They had known each other for almost a decade and, having heard many of Pat's home recordings, Steve was confident that the album would be successful. Pat began tracking all the guitars, bass, drums, keyboards and death metal vocals. Shortly after the recording began, Joe began learning all the rhythm guitar parts from the album. In early 2010, drummer Ryan Welikonich joined the band. At this time, the group decided to include more clean vocals, so they brought Laura into the studio as the new singer. Steve introduced Of Wrath And Ruin to Apollyon Records in 2010 and the band was quickly signed. OfWAR released their debut album "Conquering Oblivion" in early 2011. It has only 9 tracks, but as is common with progressive metal, each song is its own epic journey. The ultimate result is, as Ryan says, "A one hour long molten slab of metal."
"Liquid Horizon"
Liquid Horizon (DE)

- Founded in the year 2000 LIQUID HORIZON is a progressive Metal band whose main influences include Savatage, Dream Theater, Vanden Plas and Queensryche. So here's what this is all about: Powerful music with a pumping beat, melodic vocal lines, heavy guitar riffing and spheric keyboards. Not only is LIQUID HORIZON's music far away from the cliches you have heard a thousand times before - The same can be said about their lyrics that reflect living in a modern and not so safe world. After the release of the URBAN LEGENDS album in 2004 the band was playing lots of live venues including concerts with VANDEN PLAS and ADLER'S APPETITE, the band of former GUNS 'N' ROSES drummer Steven Adler. With the release of the REVOLUTIONS album in 2007 LIQUID HORIZON were following an ambitious concept. All songs tell stories of revolutions and struggles for freedom in the history of mankind. A trilogy in 20 minutes about the French Revolution is the climax of this record.
In 2010 LIQUID HORIZON signed a record deal with Firefield Records for a worldwide distribution of their new album 'THE SCRIPT OF LIFE', released in 2011. Now LIQUID HORIZON are back. Their sound is fresh, it is heavy and they leave no doubt that there is more to come...
"Dark Age"
Dark Age (DE)

- It seems like such a long hard road, that there are times in which you forget all the things left behind, but that is not completely the case with the Hamburg's Dark Age, since they are already 10 years old and still on the fight for recognition, sometimes playing in tiny stinky bar, and others playing in venues such as Wacken Open Air. A decade of sold out and almost empty shows, demanding and glorious touring, 4 albums and nearly 50 songs later Dark Age are back with a new long-player. For they decided to not let their dream of making music go away - for the band, for the fans and for all those that helped to make Dark Age a phenomenon of the German Metal scene. "A band you probably have never heard of, but that you should, not just because of their hardworking ways, or their obsession with music, but because they are good, and that's why you should aim for them". 4 years past by since their last self titled record "Dark Age" was released and a lot of things happened during this time. Immediately after the release the band went on the "Wacken Road Show", a European tour with Primal Fear, Freedom Call and Metalium. For the first time Dark Age were able to present their music to a very large audience all over the continent. The press reactions were great and the band gained a lot of respect and praise for their "best album to date". Especially in France people went nuts about the release and "Dark Age" went No. 1 in the sound check of France´ Hard Rock magazine. Because of this success they add another European tour in 2005, this time together with label mates Torment and Paragon. The show in Hamburg's famous metal hall "Markthalle" was recorded for the first Live DVD of Dark Age, which was released just in time of the 10th anniversary of the band in the summer of 2006. Besides the live recordings it includes a very fine documentation of tons of backstage material and other footage like recording sessions of the previous albums. - The higher you climb, the farther you fall. - A thing Dark Age had to learn after they acclaimed the biggest success in the bands history. In 2006 Torsten Eggert the long time bass player of the band left the crew. Even so he could be replaced very fast by Alex Frank of PHILIAE, the incident was a really painful cut for everyone and left a scar in the bands story that took some time to digest. On top of this, lead singer and main songwriter Eike Freese, who also is responsible for the production of the records since "Dark Age", decided to move with his studio. The decision to go for a professional studio that allows the owner to make his living out of it took time, hard work and money and delayed the process of "Minus Exitus" again. All in all these things leaded to the hardest time in the bands history that was filled with doubt and frustration. Since the release of "Dark Age" the band always had been an "underground tip". This status and the pressure arising from the new role change on the spot when this album came out. Although there had been successes in the past, with the band performing the Wacken Open Air twice in 2001 and 2003 each time after the release of the predecessors "The Silent Republic" and "Insurrection", in 2004 there were only a few that haven't heard of Dark Age. They wanted to come up with a next record as soon as possible and got stuck in the middle of this unexpected crisis. In the December of 2007 "Minus Exitus" finally was finished and the fact that this record evolved to carry the ultimate "Dark Age sound", made the band believe that they still had a way to go. The mixture of hardness, melody and catchy hooks, which the band is so much admired for by their fans, reaches a level of perfection on this record that is hard to describe. You can say one thing: "Minus Exitus" is the future of Dark Age made out of their own past". The most personal and versatile work to date.